Dan Gregor co-writes with Doug Mand and directs this thrilling murder mystery comedy starring Adam Pally ("The Mindy Project"), Rachel Bloom ("Crazy Ex-Girlfriend") and Vincent Kartheiser ("Mad Men").   Billy (Pally) goes home one last time before his parents move and is confronted with the memories and actions of his past.  Never having really grown up, he attempts to pick up where he left off ten years ago, but then finds himself in a world where he thinks a boy he picked on in school has murdered his mother.  The film is brilliantly funny yet somehow manages to delve into a rather poignant topic toward the end without ever losing the pace and sense of being a comedy.  I had the pleasure of talking with both Gregor and Pally about making this film.  You'll be shocked by the genesis of the film, the candid childhood memories shared,  as well as the extortion that took place!
Pamela Powell (PP):  Before we talk about the film, Dan can you tell me about your background and the differences between writing for television and for movies?
Dan Gregor (DG):  I started writing TV at 'How I Met Your Mother' …  In some ways, a story is a story.  It's about setting a problem and the rising action to fix it and the resolution… In that regard, going to movies has always felt very organic; it's a similar muscle.  Obviously the big difference is trying to find something that really ends the sentence that gives real closure to the ideas … My writing part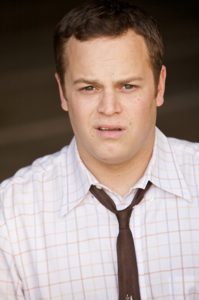 ner Doug Mand and myself, whenever we're breaking a story, we won't even start writing a script until we know that we have an ending that gives it a really exciting conclusion.  Having something that feels like a third act that people are going to be engaged with, we always feel like [that's] lacking in mainstream comedies.  You might like the first 45 minutes, but after that it's like let's wrap this up because I know where it's going.  That's the biggest difference in going into movie writing is that the third act is genuinely engaging and exciting and hopefully a little unexpected
PP:  I loved the movie!  You had me engaged the entire time and the ending was totally unexpected.  With as many movies as I see each year, that's a tough thing to do!
DG:  Thank you.  That's the highest praise I could get.
Adam Pally (AP):  Yes, truly the highest praise.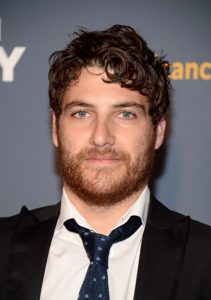 DG:  I didn't get a lot of praise from my parents growing up.  (Laughs)
PP: So how did you come up with the premise of this film?
DG:  The real beginning of the movie happened because  when I was 13 I had scrambled "Skinemax" porn in my bedroom and I would stay up all night. I would basically wait till I thought there was  a sex scene going on and then I would sprint on my tippee toes quietly to the family room that had the actual cable box and I would throw in a VHS tape and try to record the sex scene.  But I was always too late so I had this  really weird tape of the last 5 seconds of sex scenes.  (Laughs)  It's this very weird montage.  And eventually I grew out of this phase of my life and I had the tape hidden in the back of my closet.  As an adult, I went back to my parents' house and I stumbled across it and I was like,  'Oh, my God!  I can't believe this thing still exists!' and I was sort of desperate to watch it again, but I literally couldn't find a VHS player.  As much as it's ridiculous, that sort of emotion of having this piece of nostalgia that you are desperate to hold on to, but you can't. [That] was the emotional starting place of movie.  Doug, my writing partner and I have always been obsessed with 'coming home for the holiday' movies in general, but also very specifically Thanksgiving weekend and the night before Thanksgiving where everyone's back in their home town and you're going to a local bar and you're getting drunk and reliving past memories.  That sort of feeling that you desperately want to be in the past but you never can be again.  That was the genesis of … the movie.  Once we knew we wanted to do that, we then challenged ourselves to find a way to tell that in a [more] engaging way than white guy comes home and realizes he's old. 
PP:  Adam, I've seen your two previous films, "Joshy" and "Band Aid," two very different films from this one as are your characters.  Is there a commonality among these characters that you see as you play them?
AP:  Any character I play is a version of myself.  That's the only way I know how to do something is to say, what part of me would be this person?  And then embrace that  and put a full spin on it.  I think they are three very different characters, but they're all versions of myself.  I can see myself ending up like all three people with one right or left turn.  I think if I have any sort of process, it's that. 
PP:  Some of Adam's lines are remarkably memorable and offensively hilarious!  Dan, can you tell me about creating this?
DG:  I think that's the fun part about writing.  By the time you're seeing a movie, this, from concept to script, to revision to edit to improv, you're seeing the 100th version of the movie … this movie was always written for Adam… and so even when we were writing the movie we were still checking with Adam…and also we've been working with Adam since we were 20 so we feel his voice pretty well.  And truly, Adam is one of the best improvisers in the world.  We have some spectacular lines in the movie that are completely improved from Adam.  
PP:  Adam, do you have a favorite line or improv situation?
AP:  The movie is written so well that it was fun to deliver the scripted lines.  You know what was really funny … is when I first curse in front of my parents.  I know that when you're a kid, you see that other kid curse…
DG:  You go to that other kid's house and go wait a minute, this kid is allowed to curse?  Not only in front of his parents, but at them? 
AP:  When you first see that in the movie, it gets a lot of laughs and I think that's one of my favorite parts. 
DG:  And Adam gave it such a juvenile read, that is what I loved about it.  He's such an angst-y teen about it.  My favorite Adam improve line, to brag about Adam, is toward the end of the movie, he's talking about being a restroom attendant in Vegas and saying that he's sorry that he keeps looking at people's penises in the bathroom but it's an accident and he can't help but glance at a penis when it's in front of you.
PP:  Are these characters based on any real life people from your past, Dan?
DG:  Every one is an amalgamation of people.  Every one is from my life or Doug's life. In a very real way the character of Lowell is not a specific someone. [He] is based on the fact that when I was in middle school, I was a shitty kid.  I was not nice to people.  I went to this small private school and I was hot shit in this little school and I was not kind.  And then the next year, I went to this big public school and I instantly had the tables turned.  I was the nerd and I was getting picked on … And I had this realization that, oh, shit!  I was unkind to people and it fucking hurt.  That regret and that realization is the emotional cornerstone of the movie and the underlying ethos of the Lowell character.
PP:  Did you have any bumps in the road or was it smooth sailing?
AP:  We were extorted by the local town.
PP:  (Laughs)
DG:  Seriously … we moved to the actual suburbs where we shot the whole movie … this little town had a racket.  We found out afterwards where they let people sign up for film permits and then when it's in the 11th hour they tripled the price.  Our amazing producer Petra Ahmann didn't tell me what was going on because she didn't want to mess in my head while I was filming and just snuck off to the local municipality courthouse.   Honestly, I have no idea what she did to spin them back.
AP:  Could have been a double extortion.
DG:  She somehow finagled them to let us get back to our original permit price, but the thing we did have to do is  we lost all of our night shoots.  So we had to change the entire closing sequence from a nighttime horror feel to a daytime horror feel.   I actually feel like it was a real gift because it gave that whole finale a much different look than maybe was the obvious choice.
PP:  I have to ask the next obvious question.  What town?
DG:  I'm happy to burn them.  Eastchester, NY.  It's just the horror of making a low budget movie is that your every dollar really can mess you up pretty bad. 
"Most Likely to Murder," a thrillingly comedic film, is available on DVD and various digital platforms on May 1.  Check out the trailer here: MOST LIKELY TO MURDER