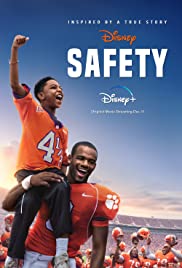 December 9th, 2020
Posted by pamela
Review
0 thoughts on ""Safety" is more than a sports story"
When you think Disney, images of uplifting, family-friendly and uplifting films comes to mind. Their newest film "Safety," based on the true story of Ray-Ray McElrathbey, a freshman football player on scholarship at Clemson University, stays true to this image.
Jay Reeves stars as the young football recruit who is, as any freshman student-athlete would be, struggling to juggle it all. It's a tough road, but Ray-Ray is looking to his future, knowing that football is a means to an end and probably not a path to a professional career. Taking a heavy class load, attending practice, getting acclimated to school life, and finding his place on the team, Ray-Ray gets a crisis call from home. His mother is being admitted to a rehab facility and his little brother has no choice but to go to a foster home. It's a heartbreaking moment as Ray-Ray's mind quickly weighs his options, and then accepts responsibility for caring for Fahmarr (Thaddeus J. Mixson). Living in the dorms with a roommate, Ray-Ray smuggles his little brother in, attempting to be his father-figure and juggle football and school. Of course, this is too much and Ray-Ray finds that it truly does take a village to raise a child.
"Safety" could easily be a fictional tale as it travels down what seems like a predictable road, but knowing it is based in reality adds a level of sincerity to the story and the characters. We watch as Ray-Ray shuts those around him out of his life, not trusting others, but his love interest, a school journalist, helps him shed those fears. The obstacles he faces, from coaches' inflexible rules to the NCAA's equality rigid guidelines, add the elements of tension and opportunities for maturity and eloquence from Ray-Ray and he rises to every occasion. While much of this may appear on the surface as being contrived, it feels nothing but sincere as it connects us to not only Ray-Ray and Fahmarr, but every coach and athlete we meet. We are rooting for this unique family called the Clemson Tigers as they ignite love and empathy in us as the viewer.
Reeves effortlessly carries this heavy load as Ray-Ray, a young man who has experienced tragedy and trauma most of us only read about. This role could easily have been overstated, but Reeves demonstrates restraint and gives us a more nuanced and credible performance. Mixson is equally talented as the irritating little brother who struggles with school, trust, and respect, but gradually finds a better version of himself. Together, Reeves and Mixson create a genuine relationship as they connect you with their characters.
Staying true to the story, the coaches portrayed by James Badge Dale as Coach Simmons and Matthew Glave as Coach Bowden, have their own story to tell, augmenting Ray-Ray's tale. And as the team becomes a family, all with their own unique personalities, it gives you hope in humanity.
Disney, of course, adds their signature style creating a glossier story to one which was probably much more gritty in real life. But this doesn't take away from the message and the reality of what it took for one young man to choose his family and potentially sacrifice himself. The story, more than a decade ago, reminds us of the importance of community and family as we reach out to one another. You can't ask for a better message in our world today, especially as we approach the holiday season.
You can stream this on Disney+ beginning December 11, 2020.
3 Stars