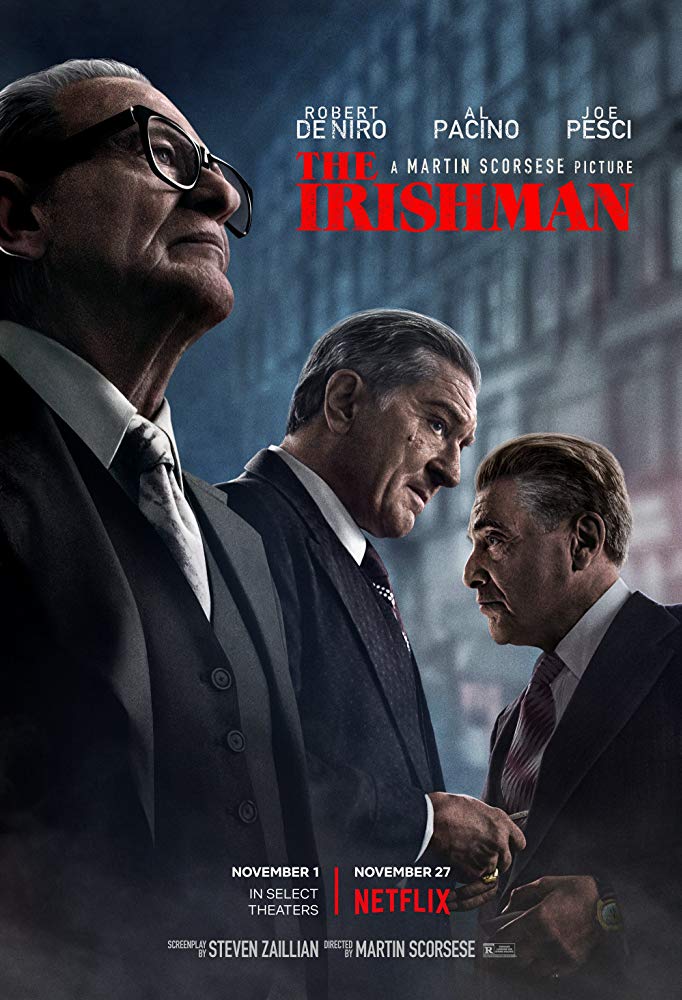 November 26th, 2019
Posted by pamela
Review
0 thoughts on ""The Irishman" – Rich, complex, a masterpiece"
"The Irishman," Martin Scorsese's reunion with Robert De Niro and Joe Pesci and the theme of The Mob, has been garnering praises from critics and viewers alike. This 3 and a half hour Netflix masterpiece could not have been created without the years of experience from these Hollywood icons who are able to look in the rearview mirror of life for a clear picture. While many hold "The Godfather," "The Godfather II," and "Good Fellas" in the highest regard, "The Irishman" is like the fine wine of this genre; aged, rich, and much more complex which in turn elicits an evocative and insightful story.
"The Irishman," based on "I Heard You Paint Houses" by Charles Brandt, a true crime novelist, is recreated for the silver screen by Steven Zaillian. No stranger to transforming hefty written material to film ("The Girl with the Dragon Tattoo," "Gangs of New York"), Zaillian creates the consummate screenplay, but no one but Pesci, De Niro, and Pacino, all in the hands of Scorsese, could have possibly brought it to this pinnacle of filmmaking.
The story is Frank Sheeran's (De Niro) as he tells us his version of his life in the mob and how he is responsible for the mysterious disappearance of Teamster Leader Jimmy Hoffa. Sheeran narrates the film intermittently, initially introducing us to himself as a seasoned veteran in the crime service, his wife, Russel Bufalino (Pesci) and his wife as they road trip from New York to Detroit, making a few important work-related stops along the way. To get us up to speed, Sheeran takes us back in time to meeting Bufalino as Sheeran's meat delivery truck breaks down. This is the crossroads in Sheeran's life and the point at which we get to see movie-making magic take place with the de-aging technique.
From this point, the film bounces back and forth through the decades, allowing us into Frank's life as Bufalino's right-hand man who follows order as if he were still in the military. We see how his past paved the road for his current career choice and how it impacts his relationships with his wives and children. Sheeran explains his decisions and opens the door to the mob, revealing the inner-workings from his point of view. Bufalino introduces Sheeran to Hoffa (Pacino) and the complexities of this triad is what makes this mobster movie a uniquely emotional one as it allows the viewer to connect with these morally deplorable people. It's simply incredulous that I felt myself almost walking in Sheeran's shoes, feeling his discomfort and conflict, but it is just this emotion that gives credit to the extraordinary writing, directing and acting: I am not a mobster, yet I can still relate to this man. Incredible.
The film takes its time, that is obvious by the running time, but in no way could this complicated and multi-layered story been cut to anything less. Scorsese peels away each layer of not just the story, but each character to reveal and more potent level beneath the exterior. And Scorsese's direction pulls us into each and every scene. We feel that we are a part of the film, tagging along, walking through the hallways and trying to peer around the corner as we hold our breath. It's this intensity and a personal point of view that punctuates the connection with the characters, particularly Sheeran.
De Niro has never been better. This role was meant for him and like that fine wine, I drank in every savory moment to better understand this man and his situation. He portrayed utter perfection as Sheeran as we read his subtle expressions conveying intense meaning ranging from hope, regret, remorse, and love of a friend. While obviously never condoning what he did, I did understand it. The era and the pressures are as much a part of the film as the story itself. Women were not a big part of it, but interestingly, Frank's oldest daughter seemed to be a haunting figure for him. Perhaps she is his conscience and morality barometer, and while her character never developed fully, she certainly has a profound impact upon her father.
Pesci and Pacino are the complete package with De Niro. Pesci surprisingly has a more understated role, but an extremely powerful one. He's the reigning lion and no one wants to intentionally anger him. The communication among all of them, relatively brief, but wholly succinct. It was a different era—a handshake, a man's word—a time of loyalty and camaraderie. Pacino is also at the top of his career as he delves deeply into one of the most influential teamsters and organizers our country has ever seen. With his charisma and personality quirks, Hoffa is brought back from the dead for us all to see and understand. It's a history lesson most of us never fully knew or understood.
The entire all-star cast seems to understand the depth of the film, giving outstanding performances no matter how small their part. Bobby Cannavale as Felix 'Skinny Razor' DiTullio fits comfortably in his role and Ray Romano as Bufalino's lawyer son Bill works with the precision of a surgeon, slicing words to make them work in a court of law. Of course there is humor woven into this story, but its found in unlikely places. Also expected is violence and there is, but unlike the aforementioned mobster films, the violence is a part of the story, propelling it forward and feeling real and not gratuitous. It is not violence for violence sake making "The Irishman" a cut above them all.
"The Irishman" is a compellingly complex narrative that takes us into a world we know little about as it uncovers and discovers Sheeran's involvement in history. With exceptional performances, deft direction, and exquisite writing, this is a film that will find its place in its own history. It's a masterpiece of filmmaking made possible only by the actors who have the experience and wisdom to do so.
4/4 Stars