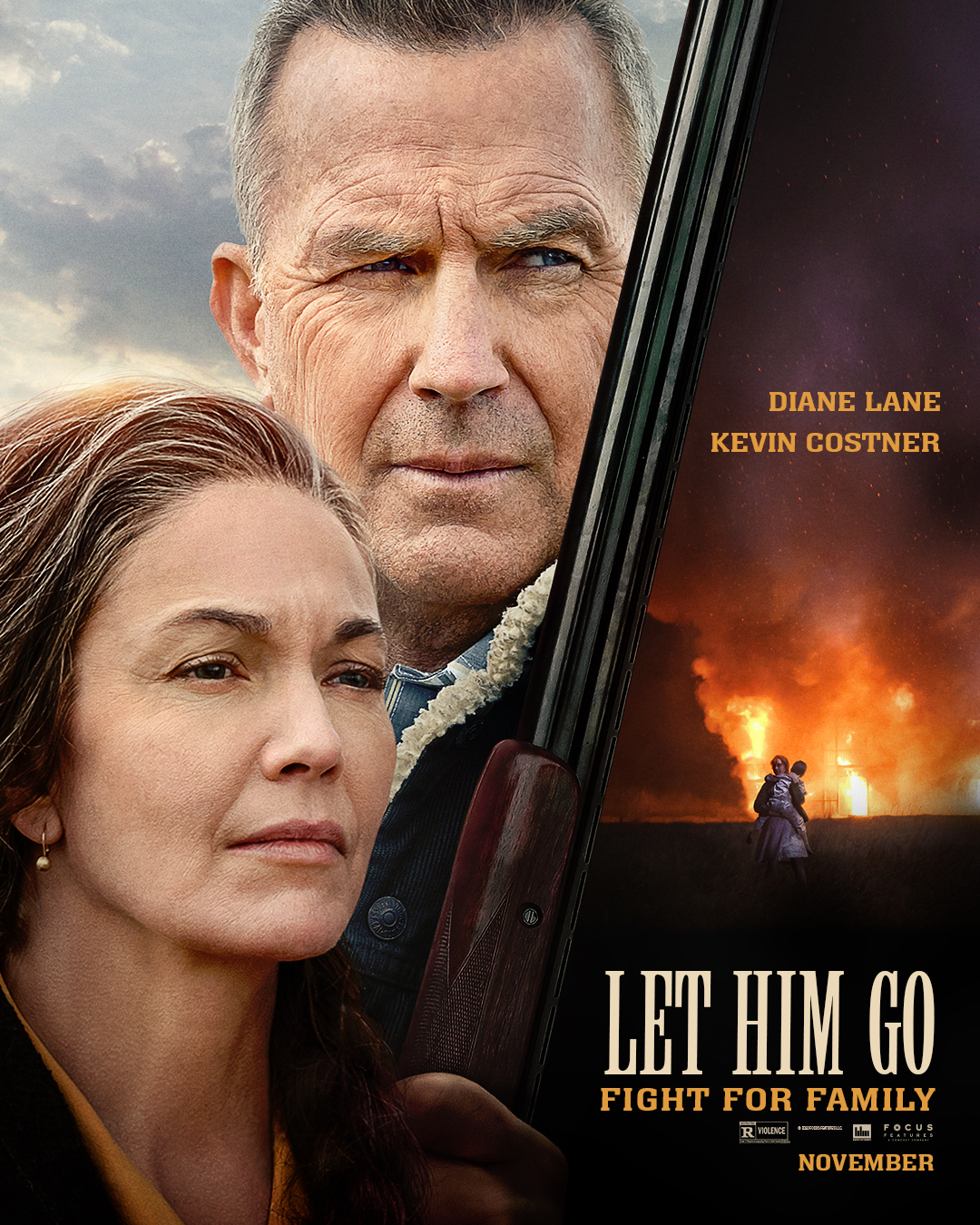 November 3rd, 2020
Posted by pamela
Review
0 thoughts on ""Let Him Go" leaves out too much"
The best-selling novel, "Let Him Go," by Larry Watson, has snagged an all-star cast including Diane Lane, Kevin Costner and Lesley Manville to bring this dramatic crime thriller to life. Unfortunately, this visual version of the story has too many missing pieces which are probably left back on the pages of the book to make it one that is satisfying.
Margaret Blackledge (Lane), a no-nonsense horse trainer and her husband George (Costner), a retired police officer, live in the remote West, living a simple life with their son, James (Ryan Bruce), daughter-in-law, Lorna (Kayli Carter), and infant grandson until one tragic day hits and James is found dead. We quickly fast-forward to many years later and Lorna is remarrying Donnie Weboy (Will Brittain). It's an awkward ceremony for obvious reasons as Margaret and George attend, but there's something else more deeply disturbing about it. Quickly, we understand as Margaret witnesses shocking physical abuse from Donnie toward not only Lorna, but little Jimmy. And then the family disappears into thin air leaving Margaret and George devastated.
Margaret is a head-strong, independent woman who convinces her begrudging husband to join her in a mission to find Jimmy and bring him home to live with them. The preposterous idea that Lorna will cooperate is laid out on the table by George, but nevertheless, he and Margaret hop in the car to venture into unknown territories. George, using his law enforcement connections, uncovers clues as to their whereabouts, but the close-knit communities are the likes of whom they've never seen. The Weboy family has its clutches in every business and family within a 100 mile radius and have no intention of helping Margaret and George who will face life and death decisions as they attempt to save Jimmy.
Screenwriter and director Thomas Bezucha carefully lays the foundation for this story, deliberately building the tension, and leaving several unanswered questions which are seemingly for dramatic purposes. These questions, unfortunately, are never answered and while a movie can never cover everything in a novel, these elements created a mystery that could have made for an even more explosive ending. Instead, the gaping holes in the story line just made it frustrating.
Additionally, while Lane's character is bold, determined, and strong, with the heartbreak and compassion clearly just beneath the surface, her choices are sometimes in conflict with who this character is. Costner's portrayal of George is steady and consistent as the level-headed protector who learned years ago that when Margaret makes up her mind to do something, she does it. Both Lane and Costner bring an element of believability to their roles as a long-married couple who are facing a very different retired life than they planned. Lane gives Margaret the backbone she would need in the era, defying gender stereotypes yet still relying on her husband for emotional support. This is her story to tell and while we feel every step she takes, the conflicting and missing story elements disconnect us from her character and the film.
While "Let Him Go" tries your patience at times, the premise of the film continually cuts through your gut as you place yourself in their shoes. Would you do anything to save a grandchild in peril? What if that child was your only connection left with your deceased son? It's harrowing and Bezucha never lets up on the conundrum George and Margaret face which forces the viewer to confront that issue as well.
Where the story takes on a less credible element occurs as the couple encounters the smarmy, sneaky, and underhanded Weboy family. The family, lead by matriarch Blanche (Lesley Manville) is over-the-top yet captivatingly entertaining. Surprisingly, this character has more layers and Manville hones in on them with subtle brilliance. Blanche's number one son, Bill (Jeffrey Donovan) sends chills down your spine with his sardonic smile slowly curling up on his face. The rest of the family is exactly what you would picture a backwoods, uneducated group to look and act like. And obviously, George and Margaret are fish out of water here making it a good guys versus bad guys with no shades of grey type of story.
"Let Him Go" is a gritty yet gorgeously shot period piece which becomes nothing more than a preposterous thriller. With its equally ridiculous ending taking away from the seriousness of Lorna's situation and the unanswered questions which could have added so much to the story, not even Costner and Lane's heartfelt performances can make this a memorable film.
2 1/2 Stars