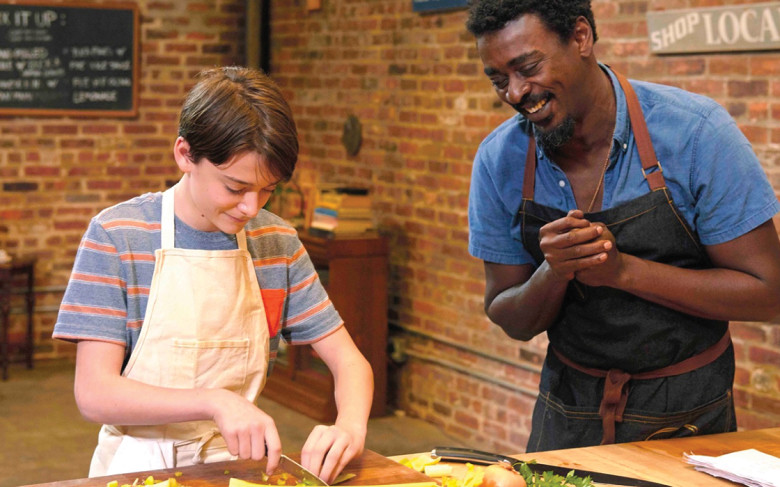 April 16th, 2020
Posted by pamela
Review
0 thoughts on ""Abe" creates food for thought in this family film"
Food. It's an art form, a science, and a language, many say a language of love. Young Abe (Noah Schnapp "Stranger Things") tries to use his yet-unrefined but passionate culinary skills to bring his Jewish mom and Muslim father and their in-laws together. Will his love of food communicate the desired effects? This sweet and succulent film delves into the difficulties of uniting polar opposite religions, but somehow keeps it relatively light as Noah finds his identity.
Abe, an introverted yet bold 12 year-old boy, lives in New York City with his parents. We meet Abe making his own birthday cake, a task he relishes. With voice over, we get a glimpse into his personality and his intellect as he recites the substitution of cream of tartar and baking soda to replicate baking powder. As his parents seem to give him great leeway in what he does and identifying Abe's desires to become a chef, they enroll him in a kids' cooking class. Abe, however, is no ordinary kid and ditches the camp, unbeknownst to his parents, and instead seeks out his cooking idol, Chico (Seu Jorge), a Brazilian fusion chef.
Cooking is an escape for Abe as he attempts to make his very divided family happy. Raised in a secular home, but continually exposed to the pressure of choosing Judaism over being Muslim or no religion at all, it seems Abe can't make anyone happy including himself. As any youngster can attest to, watching your parents fight is difficult, especially as Abe feels he is the focal point of the arguments. And with this guilt, Abe tries to fix it through food.
"Abe" thoughtfully uses food as a vehicle to learn about two warring countries, Palastine and Israel, and the traditions important to each of them. As Abe's love of cooking seems to be a part of his DNA, he spends time with his paternal grandmother and also embraces the recipes and memories left behind by his maternal grandmother. Abe is always thinking and creating. He's certainly ahead of the curve compared to other 12 year-olds, but his understanding of the world and his experiences confirm his age as he pushes the boundaries, rebells, and grows.
Relationships are at the core of this film, but it is the relationship between Chico and Abe that is the glue that binds this story together. Chico reluctantly allows Abe in his pop-up kitchen to learn the ropes, but Chico teaches him much more than just how to wash dishes, take out the trash, and begin to do the prep work. Abe learns about cultures, traditions, and how to meld them together into palate-pleasing works of art. Chico is that one steady person in Abe's life to give him the guidance and resiliency to deal with his family's escalating situation. And one person dependable person is exactly what Abe needs.
Schnapp portrays Abe skillfully. His awkward confidence rising to the surface, Schnapp gives Abe the right balance of emotion and internal conflict while never going over-the-top. Mark Margolis' role of Benjamin, his Jewish unflinching and bitter grandfather adds the element of unforgiving cynicism countered by the hilarious off-the-cuff comments from Ari (Daniel Oreskes), his Jewish uncle. Seu Jorge, however, stands out in this film as Chico as he develops not only a believable character as a new-age chef, but as a mentor and friend to Abe.
"Abe" isn't your typical family film as it does something most do not—addresses the complicated topics of history, politics, and religion and their effects upon relationships. The balance in the story is key to making sure that we understand the inner workings of this family, but also find solace, just like Abe, in cooking and learning about the craft. There's plenty of humor in this film as well as Abe posts on Instagram and makes a few mistakes along the way. With all the right ingredients, "Abe" is an uplifting and entertaining film with just the right amount of zest. It just might inspire you to try a few new dishes at home given your new-found culinary knowledge!
3 1/2 Stars