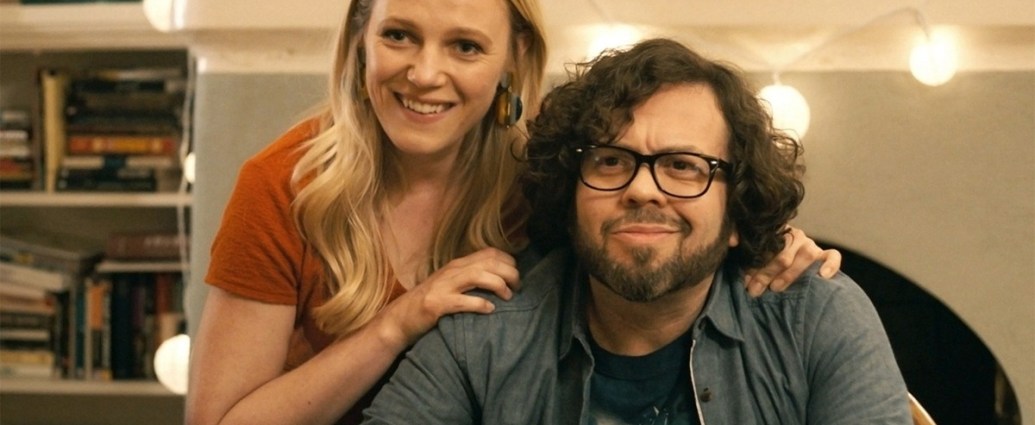 September 4th, 2020
Posted by pamela
Review
0 thoughts on ""The Argument"- A relatable and tension-filled comedy"
Writer Zac Stanford and Director Robert Schwartzman bring us a hilariously intimate look inside the minds of one couple during a momentous evening while entertaining friends. Insecure Jack (Dan Fogler), the struggling screenwriter, is planning a gathering at their apartment following his girlfriend Lisa's (Emma Bell) performance in the play "Amadeus." He's got a huge surprise to unveil, but the jealousies, miscommunications, and misunderstandings of the evening get in the way of this surprise. Instead, an argument ensues, putting an end to the festivities and both Lisa and Jack will admit to no wrong-doing. To sort out who's right and who's wrong, they agree to invite the witnesses, er, um, the unwitting guests back the following night (and several nights after) to recreate the scene of the argument.
"The Argument" is a little bit of "Groundhog Day" meets "Who's Afraid of Virginia Woolf?" Initially, the guests are perplexed as to why they've been invited back as Jack leads the conversation, trying to recreate every action and word spoken the night before.
The tensions soon rise and everyone's true colors show as the characters learn of their purpose that night. And the next. And the next. It's a brilliant take on a commonplace situation; an argument. We all wish we could have a reenactment to prove how right we were, but alas, the truth is muddled in perception and sometimes even deception.
Stanford's precision writing is executed perfectly by each of the ensemble cast members. Their personalities, all very different and on the surface over-the-top and one-dimensional, but quickly, the surface melts away to reveal more complexities and realities. Their insecurities, backgrounds, and the depth of character are both intriguing and consuming as we see how these attributes affect their reactions.
Dan, always questioning Lisa's relationship with Paul (Tyler James Williams) and Lisa's over-the-top flirtation certainly gives Dan some credibility with his suspicions. Paul's date Trina (Cleopatra Coleman) with her high pitched voice brings us back to old-time radio shows when the girls were gals and didn't have a single intelligent thought…but looks can be deceiving. Sarah (Maggie Q) is all business with a photographic memory that comes into play but it is her incredibly condescending attitude that throws her significant other Brett (Danny Pudi) over the edge. The mix of these personalities creates a party that you'd never want to attend, but would pay money to be a fly on the wall to witness!
As the film takes place in one apartment, primarily the living room, giving it the feel of a play and there's good reason for that, but I don't want to spoil anything. We experience the same scenario, tweaked and varied which makes it incredibly funny, night after night as the characters do their part to recall what they said and what they did…and like a jury during a trial, misgivings and mistakes in testimony are called out, but when they all hit a wall, Jack brings in the big guns. This is an unexpected turn compounding the already high tension comedic elements in the story making it incredibly enjoyable as a viewer.
Stanford keeps us on our toes throughout the film, challenging us to be a part of this fast-paced memory game and to get to know the guests at the party. Pacing is everything in this film and thanks to exacting direction, Schwartzman pushes his cast to deliver the goods. While Fogler is the lead, the entire cast is integral to every scene and each actor stands out as they embrace their character's position in this tangled web of truth. Maggie Q appears to find absolute pleasure in her performance as the uptight, driven breadwinner, belittling not only her hubby, but anyone who dares cross her path. Pudi plays off of this high tension, making us laugh aloud at the awkwardness he tries to brush under the rug. Williams' and Bell's embellished portrayal of their characters as actors brings to the surface so many stereotypes that you read or hear about, but it is Coleman's unique throw-back performance that really stirs things up and makes it all vividly memorable.
Finding various types of humor from irony and observational to slap-stick physical and cutting sarcasm, Stanford creates a brilliantly funny script from which the actors work. It's a masterpiece in storytelling utilizing small casts, skillful editing, dexterous direction, and of course the actors' polished performances. Laughing and relating to each and every scene and each character in one way or another, "The Argument" is arguably one of the top films this year.
4 stars