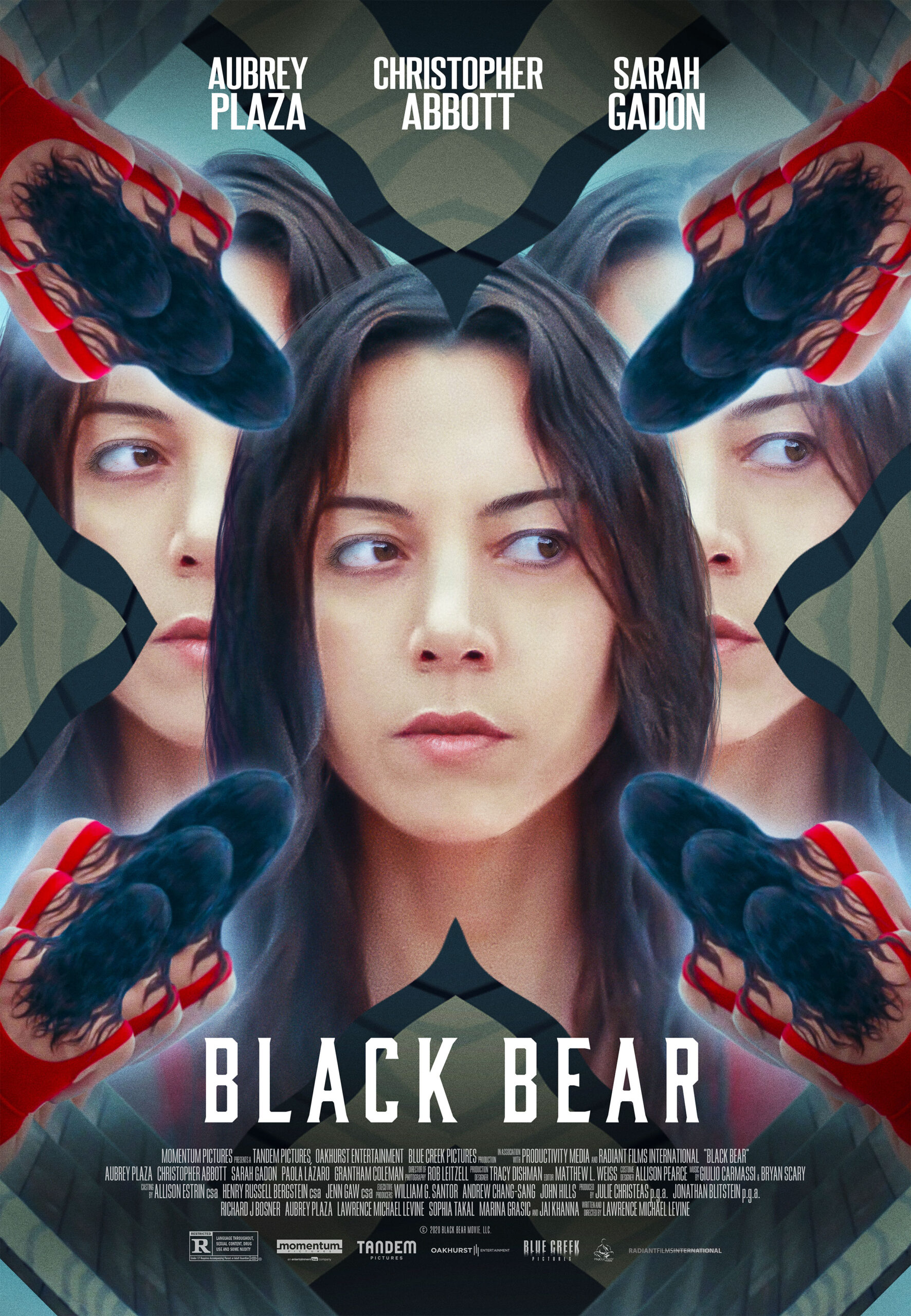 December 2nd, 2020
Posted by pamela
Review
0 thoughts on ""Black Bear" A twisty, atmospheric thriller not to be missed"
"Black Bear," a twisty dramatic thriller starring Aubrey Plaza, Sarah Gadon, and Christopher Abbott, arrives in theaters (where possible) and on demand, Friday, Dec. 4. Writer and director Lawrence Michael Levine gives us an intense look at the psychology of jealousy as it spills over into the work life of its main character, Allison (Plaza), a famous screenwriter who arrives at a remote retreat run by the husband and wife team Blair (Gadon) and Gabe (Abbott).
There's an edge to the atmosphere as Allison arrives at the retreat, initially greeted by Gabe. The awkwardness between the two is the first red flag that we are in for a searing time, particularly as the perky Blair cuts into the scene complimenting Allison at every turn. It's one of those moments that we've all experienced as we try to put our best foot forward—even when it's not really who we are.
As Allison stares at the blank pages in front of her and the time ticks on, the three add another element to the story: alcohol. This certainly loosens everyone's tongues as they plunge into deep emotional waters lashing out and defining their personalities more accurately. There's trouble in paradise and a palpable connection between Gabe, a quiet and somewhat morose young man, and Allison. The complicated and multi-layered story begins to build the foundation until the tension increases exponentially. Truths are revealed which lands them all in a place no one could have predicted.
To give you any more to the story would spoil the fun of the unexpected twists and turns this film takes, but suffice it to say, you're going to love the surprises that reveal themselves. For much of the first half of the film, there's an element of live theater as we only have the three actors in each scene. There's a contemplative quietness to Plaza's character who gives us subtle signs that there's more to her than meets the eye. And when all three characters converge in the living room to discuss "issues," that's when we feel like we are watching a new version of "Who's Afraid of Virginia Wolff." The camera work circles the group, creating a paralleled feeling of dizziness to accompany the rapid fire dialogue. This succinctly intense scene pulls us into their world as we wait for the next shoe to drop, but instead, the rug is pulled out from under us.
Plaza's performance is hauntingly potent as a troubled screenwriter. Her dark, foreboding gaze reaches your soul as you attempt to put together the pieces of the puzzle before your eyes. Abbott's range in this film is challenged and he easily rises to the task. And Gadon finally has a role to allow her to showcase her abilities as a multifaceted actor and she shines. Together, the three are mesmerizingly engaging as they tell a story of love and betrayal.
As the entire film takes place in a home deep in the woods, the feeling of isolation is immediate. A place that should incite peace, instead harbors tension and anxiety thanks to deft performances and cinematography. And Levine's non-linear storyline works perfectly to elevate the tension and the intentional confusion of the viewer to create a powerful dramatic thriller.
"Black Bear," which premiered at the 2020 Sundance Film Festival, is one of those indie gems that could fly under the radar, but you'd be missing out if you don't see it. Plaza, Gadon, and Abbott are sheer magic together as they push their acting limits to a higher level and tell a trippy and thoroughly entertaining story.
3 1/2 Stars