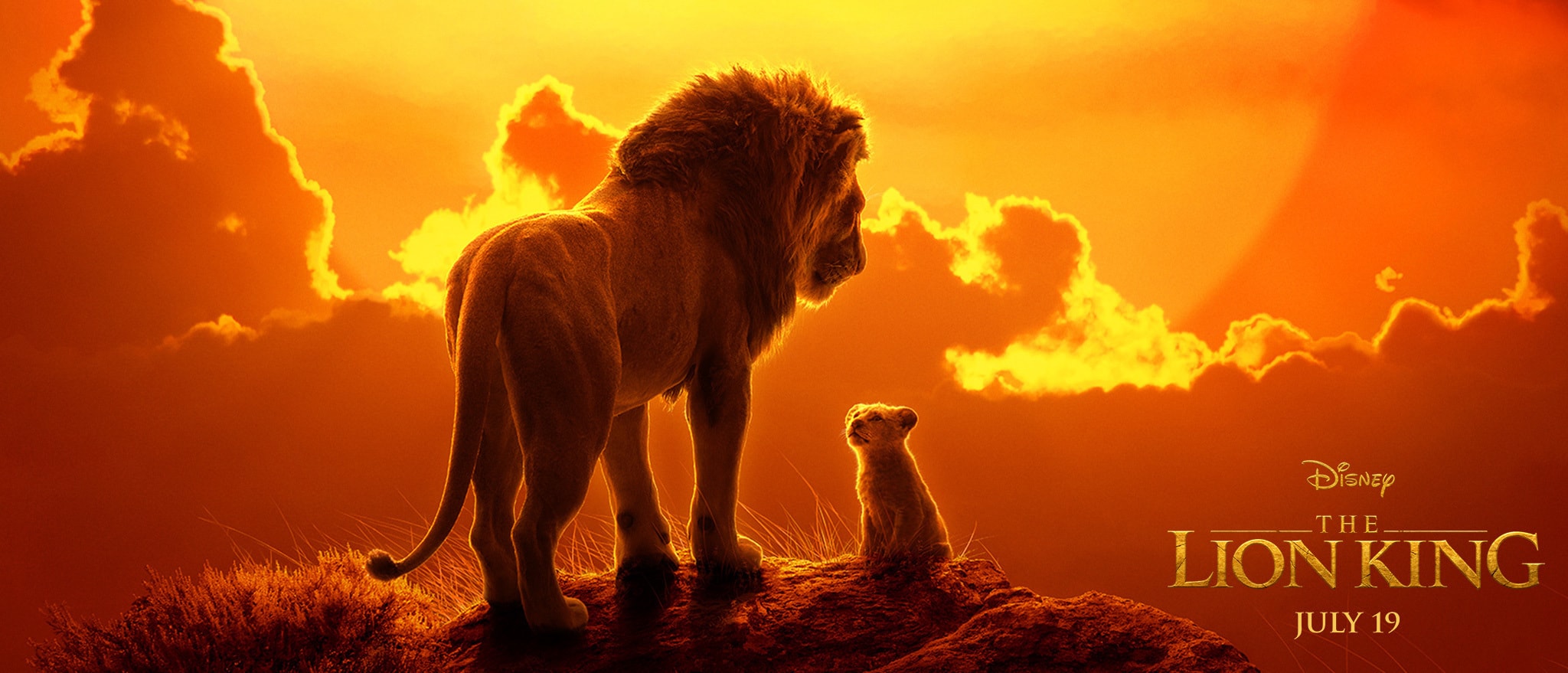 July 11th, 2019
Posted by pamela
Review
0 thoughts on ""The Lion King" Same heart, incredible new technology in animation"
Disney has released yet another remake from their wonderful world with Jon Favreau in the director's chair. After the success of the incredible melding of real life with animation in "The Jungle Book," many anticipated equally extraordinary visualization of the memorable film "The Lion King." Varying little if at all from the original story, this new version of "The Lion King," a "photo-real" production is mesmerizing throughout thanks to the artistic and technological worlds colliding in beautiful harmony.
The story begins with the familiar Mufasa (voice of James Earl Jones) attempting to impart words of wisdom upon his adorable, fluffy, and feisty cub Simba (voice of JD McCrary). Doom and gloom ensues as Scar, always jealous of his older brother's strength and place in life, plots to take down the king and in so doing, inflict seemingly irreparable damage to young Simba. Years pass and the missing heir to the thrown has made a new life, Hakuna Matata style, but he must follow the path his father and ancestors' have paved for him.
While those who are familiar with the original animated version of the story will always cherish it, this new and visually impressive version tells the same father-son story, keeping all of the same key songs, but using the terminology of today and giving each of the characters a new, fresh voice.
The film is visually entrancing from the beginning, but it doesn't really find its pacing until after the first third of the film when Simba meets Pumba (Seth Rogan) and Timon (Billy Eichner). Each of these characters are familiar yet their respective voices create new and interesting personalities as they help Simba get through each day. With laugh-out-loud moments, the film is a Disney multi-colored world of happiness and fun. Disney movies are known for their ability to make both kids and adults laugh and this updated version does exactly that, perhaps even more so than the original. Although the final portion of the film is much darker and more intense, and perhaps even scary for younger ones because it does feel and look so real, there's also a message of environmentalism and honor as Simba stands up for what's right and best for all.
With any remake, particularly Disney classics, you roll the dice when you cast a new voice for a beloved character. We saw mixed reactions to "Aladdin" (Will Smith vs. Robin Williams), but "The Lion King" thankfully continues with James Earl Jones as Mufasa and expertly or perhaps wisely casts Rogan and Eichner for incredible comedy and Chiwetel Ejiofor as the voice of Scar who formulates incomparable intimidation in his voice so that you can almost see the scheming and evil emanating from his character's lips.
Zazu is voiced by John Oliver who brings us his own signature style and JD McCrary brings a youthful innocence to his character of young Simba. Growing older, Danny Glover takes over this part, spinning Simba in his own way, especially while he sings.
While many may argue whether or not a remake was needed, no one can argue this film's astoundingly magical animation technique. Favreau reportedly blended "live-action filmmaking techniques with photo-real computer generated imagery" as the environments were designed within a game engine or VR (Virtual Reality) set up. Favreau's vision and his team have revolutionized the world of animation and because of this we are in constant awe as we see the detail of the lion's whiskers and fur, the graceful gallop of the giraffes, the rough and symmetrical ridges of the antelopes' antlers, the intensity of the hyena's dark and hateful eyes, or the billowing dust randomly rising and falling as we can almost feel the particles settle on our skin. The details are mesmerizing, capturing our attention and almost drawing it away from the story itself. Where the line of reality and animation blur is up for grabs as you cannot tell what is real and what is not. This truly gives the sense of anthropomorphism of the animals and immediate empathy for their lives.
Favreau masterfully creates an amalgam of worlds, real and animated, to retell a beautiful and familiar story which will mesmerize children and adults alike. With the skill, talent, knowledge and artistry involved in creating such a visual accomplishment, it's too bad Disney didn't put its efforts into creating a unique and original story to go along with it. However, fans of "The Lion King" will find that same heart of the original.
4 Stars