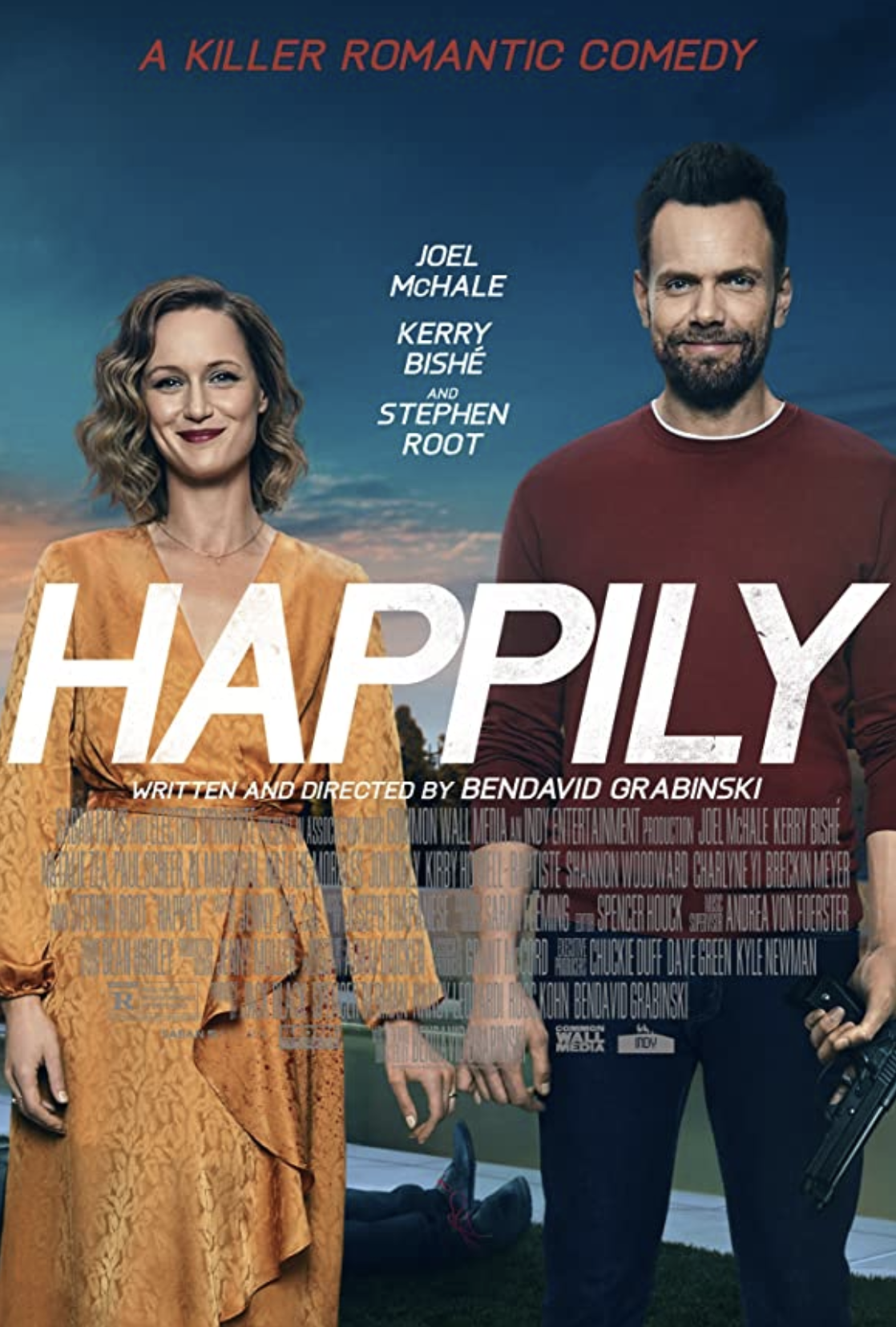 March 17th, 2021
Posted by pamela
Review
0 thoughts on ""Happily" – a delightfully dark comedy"
The mere word 'happily' conjures so many images, but of course, it elicits the phrase "happily ever after" and writer/director BenDavid Grabinski puts a new twist on that old phrase. Starring Joel McHale as Tom and Kerry Bishé as Janet, the couple is living out that phrase even after 14 years of marriage, much to much to their friends' chagrin. You see, Tom and Janet are still as lustful and smitten by one another as the day they met. Their rosy relationship is the envy of all, but a visit from a stranger hoping to set their genetics code straight–what else could possibly explain their oddness– plunges the loving couple into a weekend of puzzling behavior with a Twilight Zone edge.
We meet this couple at a party, role playing, as their friends explain the love birds' behavior to others. Arthur (Al Madrigal) finds it to be incredulous while others shrug it off as "it's just Tom and Janet." However, the next morning there's a glimmer of reality as Janet, rushing to get ready for work, finds herself cleaning up in front of the toilet (obviously not her doing), clearing the kitchen while her hubby slugs on the couch playing a video game. He then has the audacity to request that she make him an omelette. A quick deep sigh and Janet does so. We, the viewer, feel justified in believing their relationship is too good to be true only to find Tom, upon Janet's arrival after a long day, is folding laundry in a pristinely clean house as he apologizes for his recent behavior. So much for too good to be true…or is it?
Tom and Janet's chemistry is palpable and neither try to hide their love which according to Val (Paul Scheer) and Karen (Natalie Zea) is just not normal. It is also the reason Tom and Janet are despised by the tight-knit group, resulting in being unanimously uninvited to a fun couples' getaway. After a sudden change of heart, Tom and Janet are re-invited but only after a knock on their door. Quickly crossing the threshold–literally and figuratively– Goodman (Stephen Root) reveals his true intentions and they are to set their calibrated love meter to "normal." One quick injection by a large needle containing a phosphorescent green viscous material and POOF! they'll be just like everyone else. Janet responds in a shocking manner and all of a sudden there's a murder cover-up and a mystery to solve. Together, Tom and Janet match minds with the group in what becomes a fateful weekend getaway hoping to find out what really is happening and who is the ring leader.
A dark comedy is tough to pull off but McHale's straight-laced, kind and considerate stand-by-your-gal attitude makes all the jokes work like a well-oiled machine. Typically the funny guy, McHale's timing to set up and react to off-kilter and sometimes shocking situations is played perfectly. Countering him is Bishé's ability to portray an equally kind persona with a sprinkling of confusion bubbling just beneath the surface. The two are natural on-screen and with a few steamy sex scenes, you readily believe they are a happily married couple. When you add into the mix Natalie Morales, Stephen Root, Charlyne Yi, Scheer, Daly and more, who all relish in their characters and a story cloaked by the spirit of Rod Serling, it's a recipe for the darkest of dark comedies that is simply sublime.
Grabinski takes full advantage of his seasoned and talented comedic cast, but it is his dry wit and timing which throws us that curveball when we least expect it that makes it so much fun. Unfortunately, the culmination of all of this is slightly disappointing as we are shown the man behind the curtain. Trying to make up for the lackluster result, Grabinski throws us one more sucker punch that almost makes up for it.
"Happily" is the delightfully dark comedy capturing a topic we all can relate to–relationships with significant others and the realities of life.
"Happily" releases in theaters and digitally on March 19, 2021.
3/4 Stars