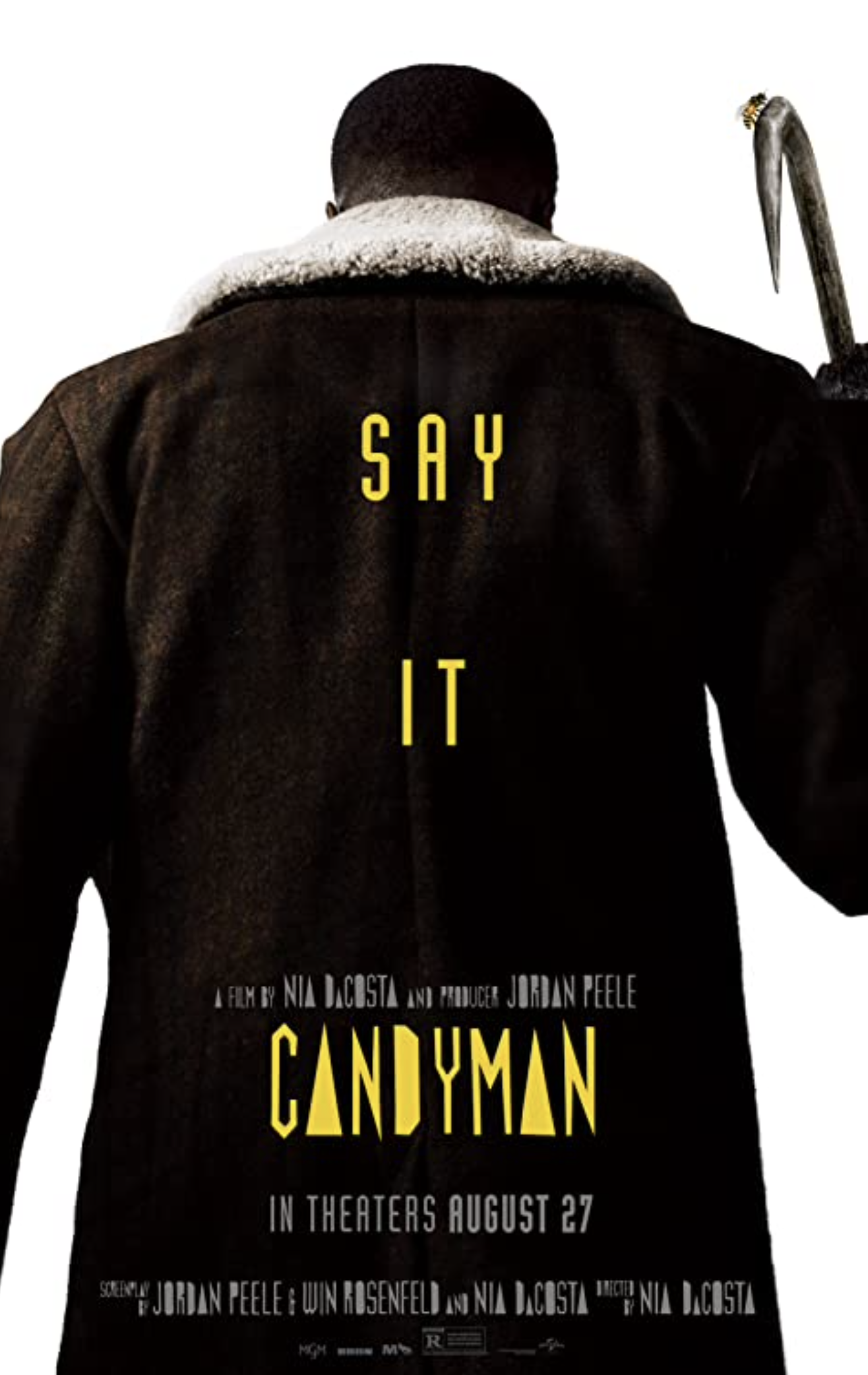 August 26th, 2021
Posted by pamela
Review
0 thoughts on ""Candyman" surprisingly complex and relevant horror film breaks the mold of the genre"
"Candyman," a sequel to the original 1992 version, takes us back to Chicago where the former housing project of Cabrini Green has been leveled to make way for a new, gentrified neighborhood. (If you haven't seen the original, don't fret. This new film, co-written by Jordan Peele gets you up to speed.) The lore of the Candyman is revisited as Anthony McCoy (Yahya Abdul-Mateen II), a rising artist struggling to find his muse for his next exhibit, learns of the horrors of the past in Cabrini Green. Delving into the long-buried stories, Anthony's artistic creations take on a life of its own, catapulting him from struggling to renowned.
Anthony and Brianna (Teyonah Parris) live in this gentrified upscale neighborhood, basking in the luxuries that life has afforded them. Brianna, a wealthy and successful woman in her own right, watches as Anthony gets pulled deeper and deeper into a very dark space. His research consumes him and meeting a stranger (Colman Domingo) who provides pivotal information about the legend of the Candyman, plunges him into an abyss from which he may not return. But this is exactly what inspires him to create a must-see exhibit called "Say His Name," allowing him to rise from the ashes and profit from his past.
Mockingly, Anthony shares with Brianna the lore of saying "his" name five times while looking in the mirror after learning of the deaths surrounding his exhibit. The brutally horrific demise of those he knows brings no sadness, but a sense of accomplishment as the publicity helps with his own name recognition. Abdul-Mateen II's performance, particularly in this scene, reminds us of his finely tuned skills as an actor as he sends shivers down your spine in reaction. He was also a show-stopper in his performance in "The Trial of the Chicago 7" so it comes as no surprise that he can take this role and make it his own.
"Candyman" isn't your typical bloody horror flick. In fact, there's nothing typical about it. This is a smart and complicated story that gently exposes the ills of the past and how they continue on through the present. The inequities of opportunities and oppression based on race are the underlying currents that ebb and flow throughout the film. However, it is never heavy-handed, but articulately defined and portrayed, sweeping you out to the sea of understanding. And unlike any other typical horror film, we don't know how this is going to end as the narrative arc is a surprising one.
The writers carefully depict the past, present and perhaps the future using various story-telling techniques. Shadow puppetry, as old as the hills, is interwoven into the fabric of the story, an impactful visual effect more powerful than any high-tech cinematography. Additionally, the writers and director (Nia DaCosta) sprinkle in bits of symbolism and repetitive imagery which brings the story to its inevitable yet surprising conclusion. The twists and turns it takes are what keep you on the edge of your seat, wondering what lies around the next corner.
DaCosta's vision brings "Candyman" to life. She doesn't rely on the "jump-scares" but instead on psychological set-ups to awaken your every sense. With simple yet effective set designs, we are also brought into the grit of Chicago's former housing projects and the horrific conditions of the past that still live in our memories. These, of course, influence the trajectory of the story as our main character relives his past and others.
Knowing that Peele had a hand in the writing, you immediately know that you're in for surprises and societal statements. He does not disappoint. His keen understanding of storytelling and surrounding himself with the talents of his co-writers, director and of course, the cast allow him to create a genuinely unique and captivating story. We also see the genre of horror with all its tropes push the envelope to become something far superior. It challenges us to look more deeply into our history and our knowledge base to actually see things for what they are. And at the same time we are thoroughly entertained.
3.5 Stars